Open shelf pantry is one of the most popular cabinets in the new kitchen design and renovation, even laundry and butler pantry design and study nook as a tall open shelf cabinet. They can be used to keep decorative stuff or just break up the cabinet blocks. Our open shelf pantry means to make your kitchen design like a modern kitchen, shaker kitchen, or any style you like within your budget.
Tall Open Shelf Cabinet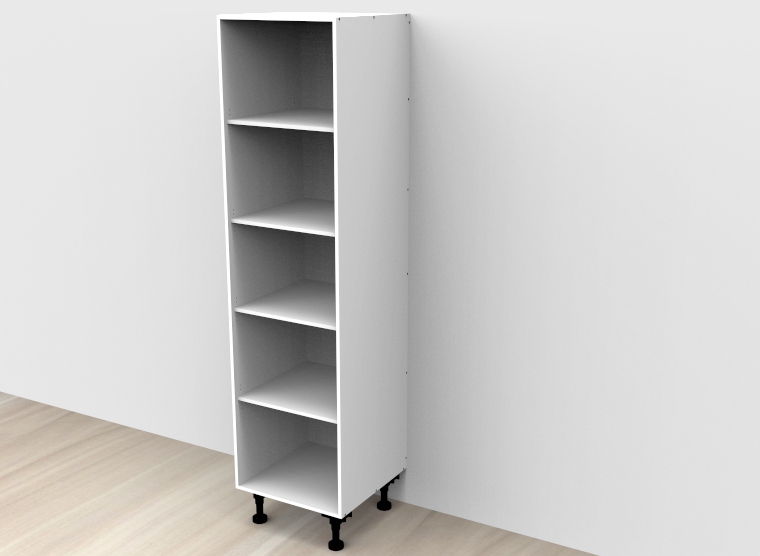 This is one of the most commonly used cabinets in Kitchens Design and Laundry Cabinets. This cabinet comes with adjustable shelves and shelf support to meet all your storage needs. Please note that the flat pack carcass including Adjustable Legs for easy leveling and Screws. All flat-pack cabinets are pre-screwed for the easiest DIY assembly.

You can read further information on our blog about kitchen design and renovation tips and much more interesting topics. Visit our rooms to find more about different kitchen design, laundry rooms, vanity ideas, wardrobes, and living room. That gives you more ideas about the different types of designs based on your room size and budget.
Have a look at our cabinet products to find more about our base cabinet ranges.
Visit our showrooms to talk with our experts and walkthrough our variety of kitchen units and kitchen designs, butler pantries, laundry ideas, vanity designs, and wardrobe designs and ideas. Alternatively, you can approach us by phone, email, or submit your enquiry here.