Built-in storage to get the most out of your laundry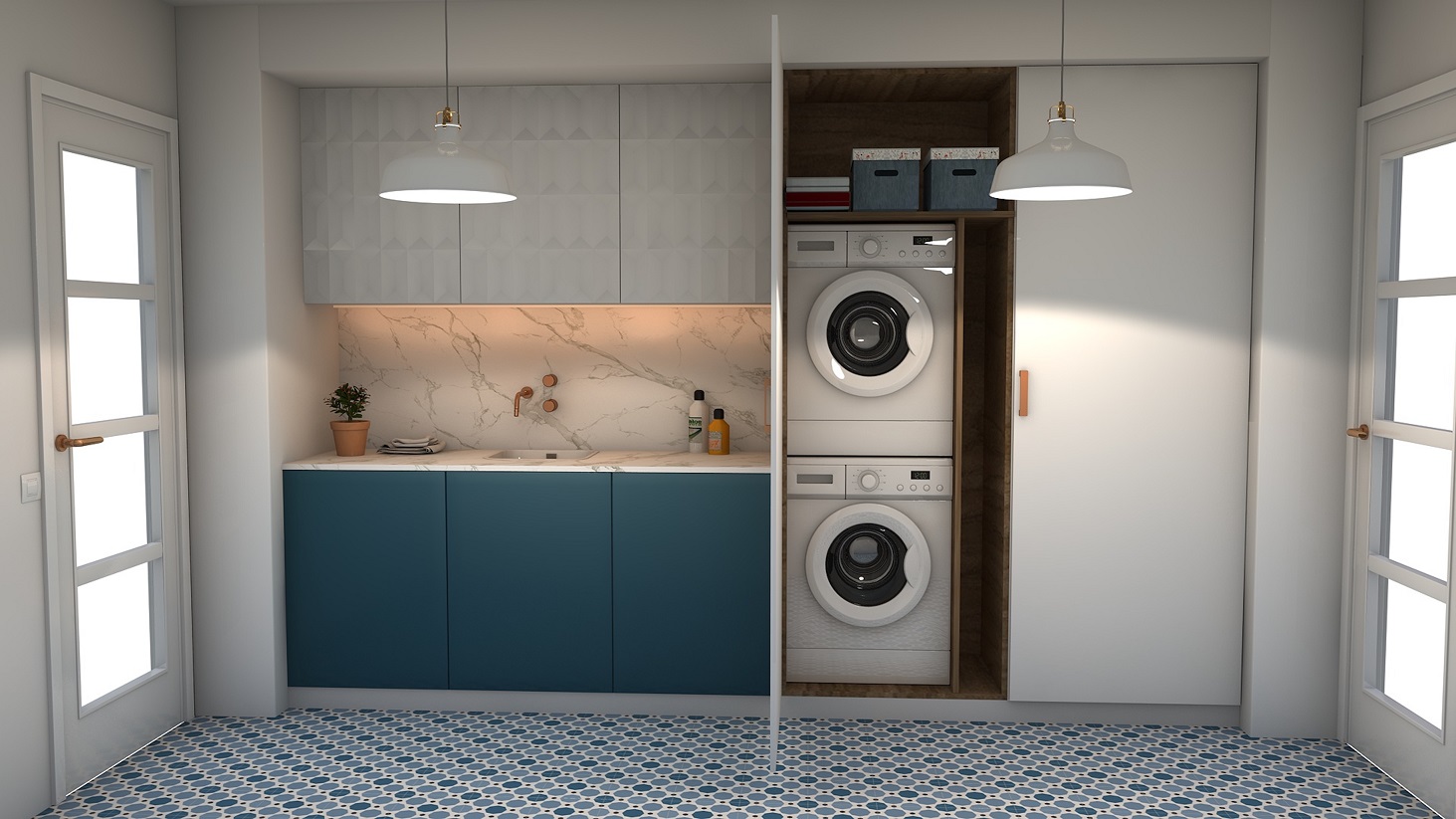 Kitchens, bathrooms, living areas, these spaces can make or break the layout of your home. But that doesn't mean that you should be skimping out on the laundry area! There's nothing worse than trying to do your washing in a cramped, non-functional laundry space, especially since flat packs give you the solution to have a beautiful and functional laundry room.
Functional Flat Pack Laundry designs
Flat packs are the perfect solution for spaces with limited floor space. Flat Pack cabinets provide a clean, high gloss finish that will make your laundry room feel updated and fresh.
Flat packs also make it easy to move from one location to another, so you don't feel trapped inside your tiny apartment forever! When considering new flat pack cabinets for your home renovation project, there are three important factors:
- Laundry layout
- Cabinet style
- Appliance types (front or top loading washing machine)
Thankfully, CabinetWorX offers a variety of cabinet styles, we have a flat pack storage solution to match any type of laundry layout!
Laundry Layout
Most households have a straight line laundry design. This type of layout maximises the usable space in your home with minimal effort and fuss. You can create an effective washing room for yourself by adding one benchtop that runs all along the sidewall which you'll be able to use as both storages above and below while also providing enough space so you can have washers or dryers next to it at opposite ends.
Functional Storage
To maximise your laundry rooms efficiency we recommend using a combination of functional storage options. If your laundry area doesn't have space to run your cabinet horizontally, we recommend trying to go vertically by installing tall cabinets. They make for the perfect places for storing mops, brooms and ironing boards, and even your Christmas tree!
Layout do's and don'ts
If you live in a small apartment or home, make use of vertical space. Be efficient by installing upper cabinets above the washer and dryer to allow for more storage space without needing to fill up your living area with bulky appliances. Pay attention to the workflow as well! When placing a washing machine and drying rack next to one another, it's important that they're both within easy reach so that each cycle can be completed efficiently. A galley-style layout is recommended if possible because this leaves room near sinks for items like detergent bottles which are needed during laundry time.
Get inspired with our built-in laundry
Let us help you lighten the laundry load with a CabinetworX laundry flat pack! Our flat packs give you the beach of mind knowing that you've made the most out of your space and budget.
Who knew laundry could be this much fun? If you're ready to plan, select, create and enjoy your beautiful laundry designs then we're eager to help. With our handy tools, even the novice DIY-er can achieve flawless results. Browse our range of flat pack cabinets or get in touch with our friendly team if you need any assistance!