Laundry Designs You'll Love | CabinetworX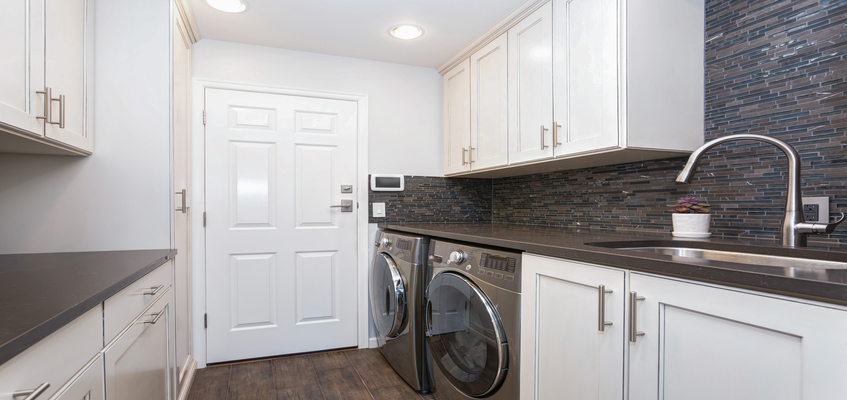 Does your laundry need a little TLC? It might not be the most thrilling room in your house, but with good style and functionality, it can make all the difference during washing day!
From generous workspaces to open shelving, here are some ideas to help make sure you get the most out of your laundry upgrade.
Work station
If you have extra space, we recommend giving your laundry room a workstation to maximise its functionality. A workstation comes in handy when you're separating your washing, loading or unloading your washing machine, and folding clean clothing.
One of the most common laundry layout designs is a straight line because it maximises the most space. With straight line layouts consider using a single benchtop, wall cabinets for overhead storage, and base cabinets for lower storage. You can also use our pantry cabinets or broom cabinets to help store all your larger cleaning tools like mops, brooms and ironing boards.
Show off the elements
Having open shelving is a great way to add a dash of style and flair to your laundry room while being practical. Open shelving allows you to store your most used products in easy to reach locations.
Here's a little design tip: consider matching your benchtops with your shelving for an effortlessly seamless look.
Small but mighty
If you don't have an abundance of space, you can still create a functional and stylish laundry room that fits all your needs. With our flat packs, you can optimise your storage by getting the most out of every inch. Our flat packs are cut to measure, meaning you won't have to worry about ill-fitting cabinets or shelving.
Flat packs are the most efficient, DIY- friendly, and budget-saving solution for any home storage problem.
If you're ready to start planning, creating, and giving your laundry some love have a browse through our range of flat pack cabinets. Don't hesitate to contact our friendly team for any extra questions or assistance! We're more than happy to help lighten your laundry load.