How to design and maximise your walk-in wardrobe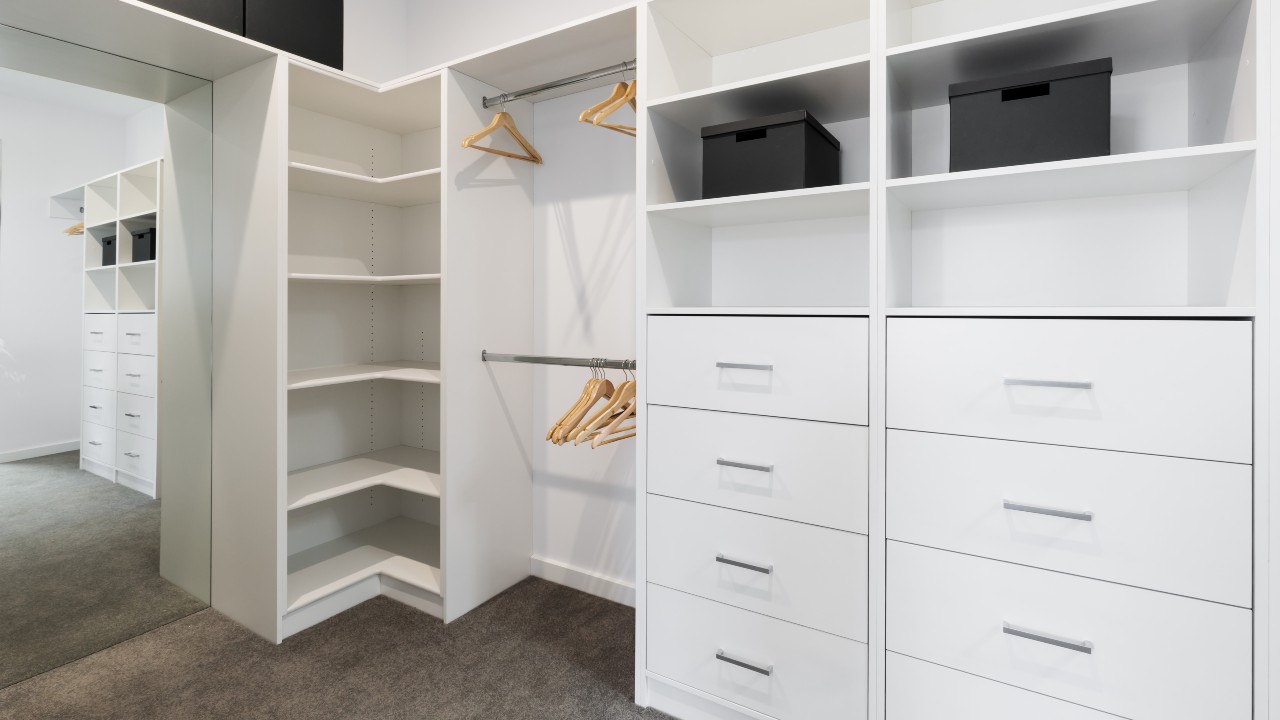 If you're thinking of revamping your bedroom and you have some extra space, consider designing a walk-in wardrobe!Walk-in wardrobes are the answer to your storage prayers. They're your bedroom sanctuary, a place strictly for order and organisation. When designing your walk-in wardrobe, consider playing around with both shelving and drawers. Think about the functionality, your personal style, and take advantage of every inch of your space.
Here are some tips to help guide you to maximise and design your new walk-in wardrobe.
Clothing Rails
The amount of space we need in our wardrobe varies from one person to another. But there is one thing that often rings true, women require more hanging space than men.
We highly recommend mixing long and short hanging options when designing your wardrobe. Cabinetworx clothing rails are customisable to suit your storage needs and are designed based on the available space. Having different levels also means you can conveniently display all your clothes.
Drawers
Drawers are one of the most important elements for walk-in wardrobe designs. They offer a home for smaller clothing articles like your underwear or sock and foldable accessories. Drawers can transform any space into a well-organised and functional area. When choosing your drawers, ensure they're wide enough so your clothes aren't squashed on the slides.
Open shelves
If you're someone with a busy life, convenience is essential. Open shelving units offer you quick and easy access to your clothes. At a glance, you'll know where everything is and won't be faced with the problem of "out of sight, out of mind." We recommend using open shelving to store folded jumpers and shirts. It's the perfect option for displaying handbags and accessories.
Extra tips for designing your dream walk-in wardrobe on a budget
Designing your dream wardrobe doesn't have to break the bank. Get creative with your storage solutions and you might surprise yourself with some unexpected designs! One way
you can create the illusion of space is by incorporating a mirror into your wardrobe. At Cabinetworx, you have the option of adding sliding door mirrors to your walk-in design.
Whether you're after a luxury walk-in wardrobe or just a simple, practical one, Cabinetworx walk-in wardrobe designs can cater to all your needs. If your home doesn't have the space for a walk-in wardrobe, we also offer built-in robes. These designs are perfect for those with smaller wardrobes but want to maximise their space.
If you're ready to start your wardrobe upgrade but aren't sure which design is right for you, don't hesitate to contact the friendly team at Cabinetworx. We're more than happy to guide you through the steps to ensure you're getting the most of our walk-in wardrobe.
Alternatively, if you have a specific design style in mind, we're more than happy to get it ready for you.
For any more questions about our walk-in wardrobe designs or our range of flatpack cabinets, please contact us today on 1800 003 456 or send us an email at sales@cabinetworx.com.au